Here we introduce the benefits of Satake mixers in an easy-to-understand manner both for our existing customers and first-time users!
Compact and lightweight design makes mixer easy to move and install!
Satake's small mixers are compact and lightweight so you can easily install them anywhere!
Type for mounting on open tank
Type for fixing to tank with lid
There are two mounting methods "clamp mounting" and "flange mounting"
Mount on an open tank
It is a clamp with a vise structure integrated with the main unit.
You can also fix the mixer to the desired place with bolts.
Can be mounted or removed easily.
You can freely move the mixer vertically by 60º.
Fix to a tank with lid
This is the plate for fixing to a tank. It is integrated with the main unit.
Since it is tightened with several bolts, you can firmly fix the mixer to the tank.
It is very convenient so it is used in many places!
This is why Satake's mixers are different!
High performance
Although they are general-purpose devices, they are equipped with our proprietary high-performance impellers developed at the "Mixing Technology Laboratory"!
Various options
A wide range of types can be selected according to the purpose, such as the type of motor and shaft material! We also offer convenient goods such as tanks and stands!
Compact and lightweight
For example, the popular A720-0.1 is lightweight at just 11kg. Ease of movement with compact design!
Made in Japan quality
All of Satake's products are assembled and shipped at plants in Japan.
History of Satake Portable Mixer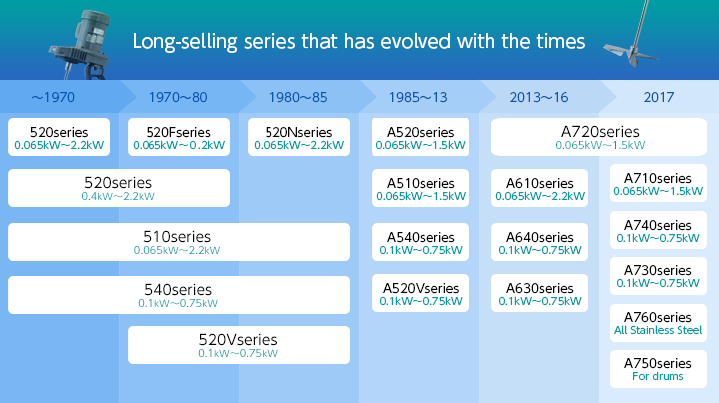 Contact・Technical Inquiries
For quotation, consultation, inquiry and stirring technology consultation of various products here.